GET YOUR EQUITY INITIATIVES INTO ACTION!
Whether gifting for a small group or planning a large mission-driven event, we can help you bring your vision to life through custom products, packaging, and diverse gifts made by small-businesses and BIPOC-owned makers, here in North America. Our customized gifting options allow you to add your branding and vision.
Shop our pre-curated collection online. Simply checkout online or download our address import form below. Once it is complete, simply email it to us at sales@bipocbox.com and we'll follow up with a link to pay.
We can help you customize an impactful gift for any occasion. Timeframe is generally 3-8 weeks. $750 non-refundable retainer required for custom requests and is applied to your project total.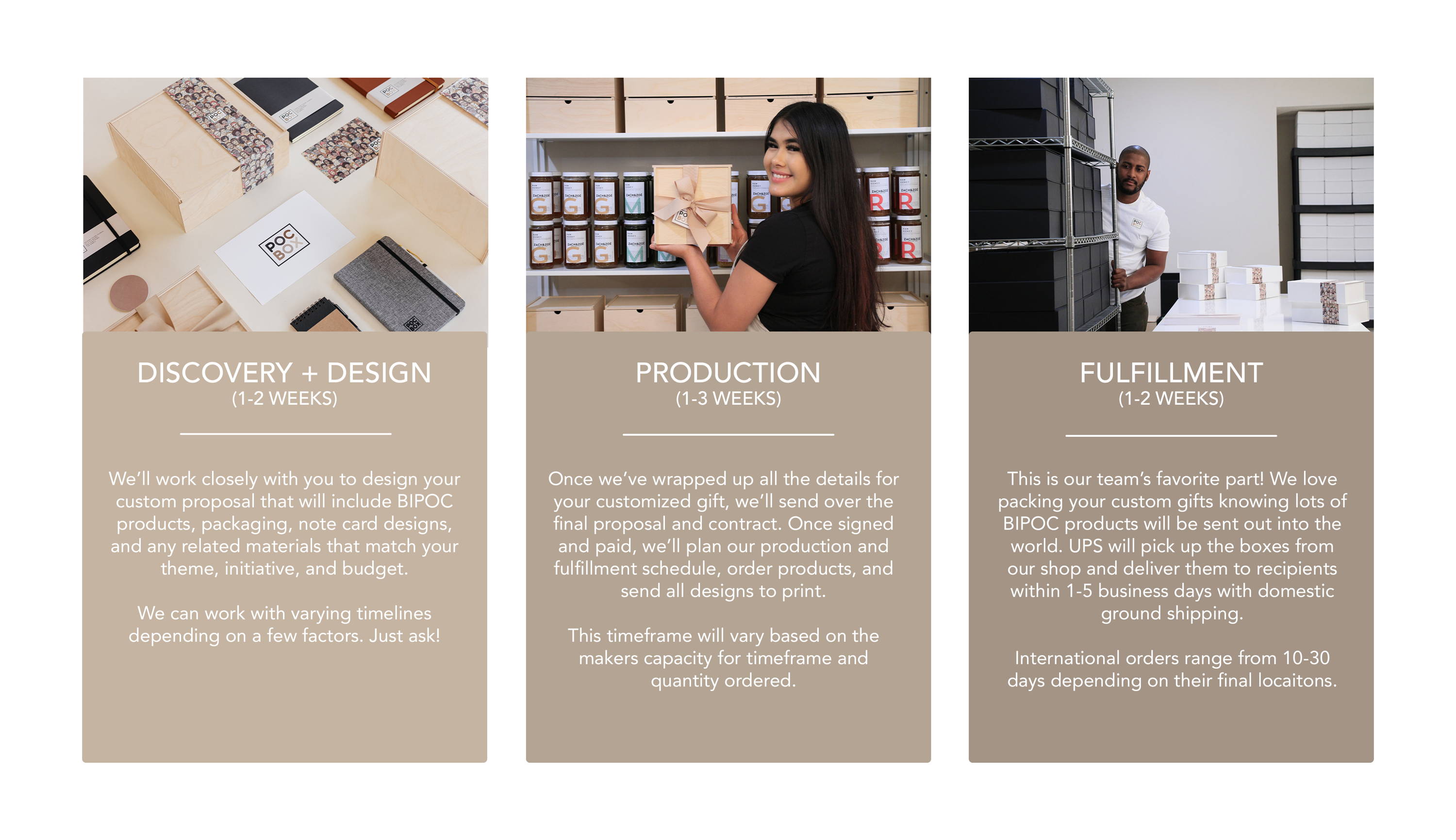 Is shipping included in the price?
No. Shipping is priced separately as market rates fluctuate and final destination plays a factor. The current median domestic shipping rate is $14. This does not include Hawaii, Alaska, or Puerto Rico.
Do you ship internationally??
Yes. We ship internationally on a case by case basis. We are unable to ship live plants or beverages at this time. International shipping starts at $75 per box and is based on the courier and destination. VAT and import fees vary by country.
Is there a fee for custom gifting services?
Yes. We require a $750 non-refundable project retainer for custom gift box requests and product suggestions. The non-refundable retainer is applied to your overall project at the time of checkout.
A full custom order Includes; three gift box concepts broken down by community, based on your gifting criteria and budget. This also includes product recommendations, product research and sourcing, and a formal proposal with imagery. We prepare this in presentation form so you are able to review and share with your team.
Due to the volume of gift and products requests we receive, we do not offer free product suggestions, sourcing or concepts without a project retainer. The retainer helps cover our team's time to dedicate towards your unique request. Please do not ask us to assist with your project without payment.
May I request a slight change to an advertised gift box?
Yes. We can happily swap, remove or add a product shown in one of our boxes for orders of 6 or more boxes.  
Do you offer bulk pricing or non-profit discounts?
Currently we are unable to offer discounts or price breaks, but we will gladly work with you to find a gift box within your budget. We do our best to keep our pricing competitive while ensuring we can continue to purchase more product directly from BIPOC businesses. Most POC businesses do not receive the full advantages of market price breaks when they are still in their growing stages.
We do offer occasional sales and promos throughout the year when we are able to. Please sign up for our newsletter or follow us on instagram to be notified!